Krystal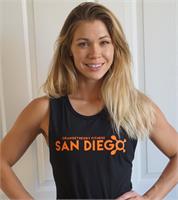 Krystal was writing training programs and coaching friends and gym members long before she was certified or paid for it. It's clear now that her passion lies in inspiring people to get up and move and to give life their very best, but this dream wasn't always so clear.
Prior to bicep curls and lunges, Krystal worked in radio and television broadcasting as an on Air Talent, Music Producer and Television Co-Host. She was determined to make it in the world of pop culture and entertainment, and that's precisely what got her to pack her entire life into her golden Honda and make the big move from Boise, Idaho to Los Angeles in 2012.
As exciting and glamorous as Hollywood was, Krystal traded her stilettos for Nikes and moved to San Diego to pursue Fitness full-time. She hasn't looked back since.

Today Krystal is a NASM Certified Personal Trainer, NASM MMA Conditioning Specialist, Nationally-Qualified Bikini Competitor, Yoga Sculpt Instructor, Ambassador for Yoga for Homeless, Sponsored Athlete, Pet Parent to three gorgeous puppies, and Health and Fitness Coach. Her background lies in strength and flexibility, and she works with clients as young as 18 and as experienced as 80. Connect with her on Facebook and Instagram to stay up to date on her awesome life as a coach and trainer.
Krystal is currently not instructing any classes.